I am contemplating selling my reverse trio of pure diamonds.
I have been doing a lot of thinking, and I don't think that I will be able to get these guys as cool as they need to be in order to properly cycle and hibernate, and I think that if someone has the proper resources to do so they are a better fit as a keeper for these incredible snakes. They are rat eaters.
If these don't sell, I can assure you I will not be dissapointed. Theyre amazing snakes, and if I find a way to cool them enough so that they have a good shot at breeding/cycling, they will stay here. My issue is that my coldest reptile room houses Uroplatus and Chameleons, and only drops down to about 60-62 at night. My other room never gets below 70. This houses Chondros, monitors and other warm lizards.
Possible trades for Chondros or Amazon Basin ETBs.
This reverse trio was purchased by me from Derek Dunlop about a month ago.
1.0 is a Tom Crutchfield animal. Produced in 2010, and is absolutely stunning. Exact hatch date is unknown.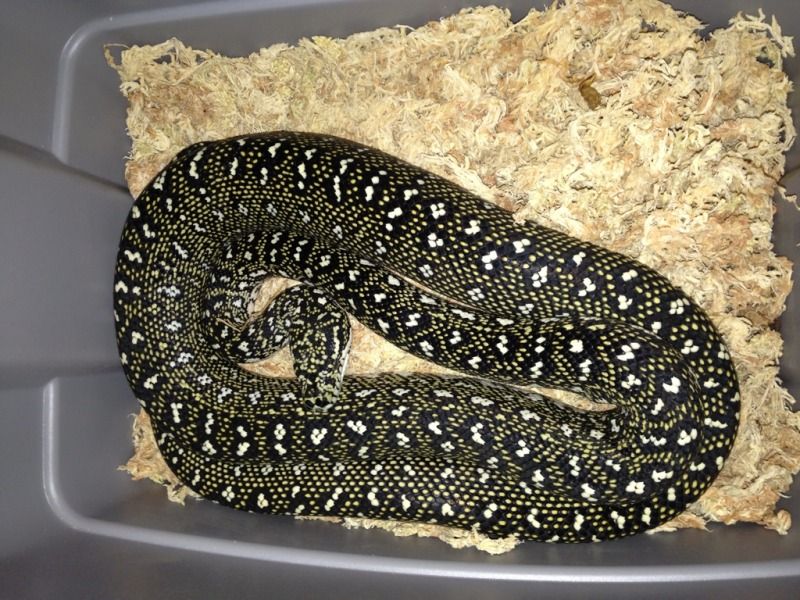 1.1 is from Steve Kelly at SEK Cobra. They are 2009 siblings (7/8/2009). The parents were Rare Earth stock and Doug Price line. For those familiar with Steves animals, the father was DM2 and the mother was DF3. This is a very well known line of diamonds, and if you search this pairing/bloodline up on some of the different morelia or aussie python forums, you should have no trouble finding some info on them.
Female-
Male-
Threads of a sibling to these two-
http://www.moreliapythons.com/forums...ht=steve+kelly
Hatch thread-
http://www.moreliapythons.com/forums...monds-Hatching
Males are $1,000 each OBO.
Female is $1,750 OBO.
Take the whole trio for $3,500 shipped OBO.
e-mail at
rhacsetc@yahoo.com