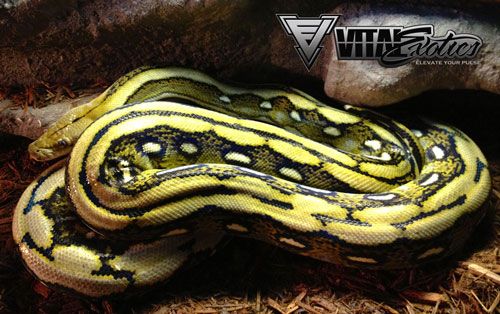 Here is something you dont see every day.... A Breedable Tiger 100% Het PIED PH Albino Male Reticulated Python. This guy is from Bob Clark's second ever Pied Retic Clutch in August of 2011. I purchased him in early November of 2011 and have had him since then. He is in the 9' range and feeding on frozen thawed large or jumbo rats. He is a very good feeder. Producing sperm plugs now and ready to be put to work in your collection. The Tiger Het Pieds have a look and pattern to them that no other Tigers have, lots of silver and speckling on the sides, with a rich gold base color. I also have a Visual Pied Male out of this clutch, so in reality I will really not ever be needing this guy for my breeding programs so I am listing him for sale. With the Pied being the most saught after Retic morph for some time to come, this project will turn out to be a great investment for some time. There have been very few Het Pieds released to date and there are almost NO Hets or visuals out of the first or second Pied clutches in the USA, so with this guy you will be in the forefront of the project and one of the first to put the Pied gene to work in your own collection. A major bonus with this guy is that he is also possible het Albino, and with the Albino Pied just being unveiled, the chance to produce Albino Pieds is immeasurable right now.
Questions? Call or text Kris at 715-563-1519 or email
info@vitalexotics.com
for more info and for package deal prices or to set up a payment plan if needed.
Go here:
http://www.vitalexotics.com/reticulated-pythons/
for more info, videos, photos and a secure online cart to make your purchase.
Go here to view and purchase the products:
http://www.vitalexotics.com/shop/
Or check our Facebook Shop Page here:
https://www.facebook.com/vitalxrepti...84217821649480
Check out Vital Exotics' TERMS here:
http://www.vitalexotics.com/terms/
$16,000 for this powerhouse male.