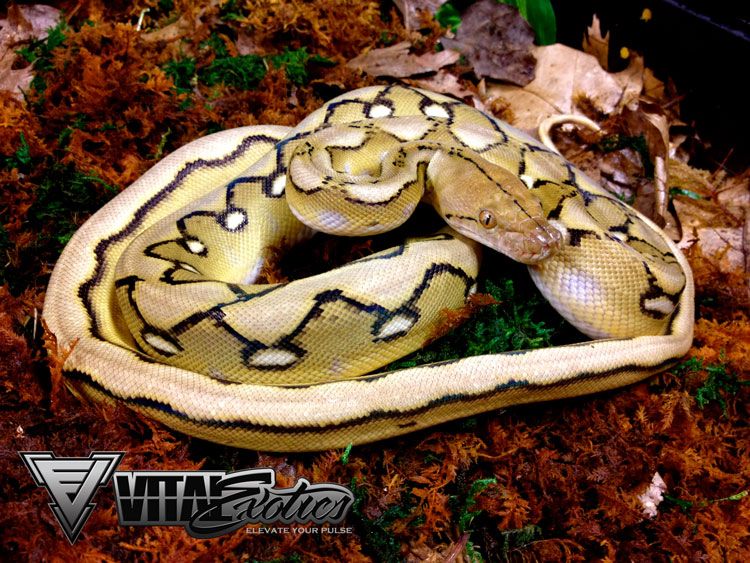 This Platinum beauty is a 2012 Zig-Zag Platinum Sunfire Female (0.1) Reticulated Python. This girl was produced by Renick Reptiles and is a very beautiful example of a Platinum Sunfire. The Renick "Zig-Zag" Line of Sunfires is either a really nice example of Line breeding in Sunfires to produce the amazing dorsal pattern and floating tails that this line of genetics shows or possibly could be a new piece of genetics that is not fully understood yet. Either way, it is sure to translate and aid in creating awesome examples of very clean and striking Sunfires when using this bloodline in your breeding program. Platinum and Sunfire are two very useful genes to add beauty and striking color to your collection and combined they amount to a very powerful breeder.
Pair her up with a 2012 Zig-Zag Platinum Sunfire Male or 2012 Platinum Albino Male and create unbelievable morphs yet to be seen.
Get a FREE T-shirt/ladies tank when you spend $250 or more on anything with Vital Exotics and get free shipping on everything when you spend $500 or more.
Questions? Call or text Kris at 715-563-1519 or email
info@vitalexotics.com
for more info and for package deal prices or to set up a payment plan if needed.
Go here:
http://www.vitalexotics.com/reticulated-pythons/
for more info, videos, photos and a secure online cart to make your purchase.
Go here to view and purchase the products:
http://www.vitalexotics.com/shop/
Or check our Facebook Shop Page here:
https://www.facebook.com/vitalxrepti...84217821649480
Check out Vital Exotics' TERMS here:
http://www.vitalexotics.com/terms/
$2000 Shipped for this killer female.