CUSTOM WOOD REPTILE CAGE COMPANY
* BRAND NEW & FRESHLY MADE *
48" x 24" x 24" CAGE
Equal to 120 Gallons
$350.00
PLEASE EMAIL ME WITH YOUR ZIP CODE AND I CAN LOOK UP THE ACTUAL SHIPPING COST TO YOU WITHIN MINUTES. [/b]
BEAUTIFUL REPTILE CAGE ! ! !
Perfect for Bearded Dragons
Natural wood grain variations and random knots coupled with meticulous wood selection and skillful construction ensure superior craftsmanship and that your cage will be One-of-a-Kind!
Our unique design combines the Clarity of Plexiglass or Glass with the Beauty and Durability of Wood to Create this Line of Finely Finished, Natural, Furniture Quality Habitats.
BEAUTIFUL LUXURY HOME FOR YOUR " PET "
We build canopies and stands to match as well!!!
Options:
Your choice of plexiglass or glass for viewing window Same Price
Choice of stains: Many Stain samples for you to choose from. Same Price
Choice of hardware: Gold (brass) or Silver (nickel plated brass). Same Price
- Left and right sides of the viewing window screened (Extra Charge.)
- Left and right sides of viewing window glass/plexiglass (Extra Charge.)
If none of these cages fit your specifications, we will build you a custom cage that will meet all your needs. Email us with details and we'll get back to you with a quote or further questions asap (usually within minutes). Our email is:
customwoodreptilecages@yahoo.com
Our Cages are ESCAPE-PROOF and all products used are 100% pet-safe !!!
You will get the Golden Oak stain as shown or please choose from our Stain Chart in our Store.
48" x 24" x 24" CAGE
Equal to 120 Gallons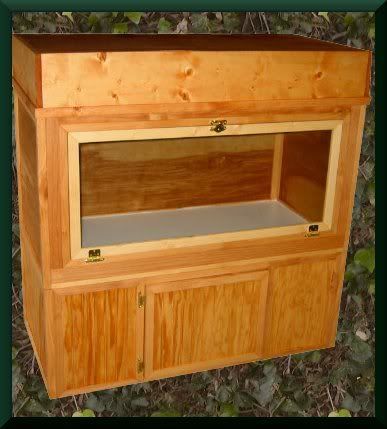 48" L x 24" H x 24" D CAGE
Canopy and Stand are NOT included in this sale, but are available for purchase.
You will not find a cage of this Quality for this price ANYWHERE!
So very Beautiful and Unique, its a Luxurious Custom Wood Cage that you can be Proud of...You Will Not want to Hide This Cage away like those regular cages.
*
EVERY CAGE IS UNIQUE & ONE-OF-A-KIND
*
Our cages are Humidity and Water-Resistant!
*
Featuring our Self-closing Hinges with a Sash Lock, which makes it Escape Proof
*
Thick Top Quality 1/4" Lexan Plexiglass or Glass viewing window for Excellent Clarity as well as Safety (please let us know at check-out of your preference)
*
We use 1/8" Heavy Steel Gauge Hardware Cloth Mesh for the top. Which is Very Strong. Strong enough to even hold a Large Monitor in. No need to worry about your pet escaping.
*
The Top is made so you can Place your UV and Heat Lamps on Top.
*
Completely Safe to Put Your Warmer Mats Underneath
*
The bottom or floor of the cage is kitchen grade Formica, the same material that is used for kitchen counter tops. Making this very easy to clean as well as last in its original condition for years to come.
*
Approximately 3" - 4 " of room available on bottom of cage for substrates.
*
These cages are stackable. 7 inch Spacers are Available in our Store that hide the lighting implements
ADDITIONAL CAGE SIZES ARE AVAILABLE
A few extra example pics showing close ups of the details and quality craftmanship. Theses cages are made very solid and sturdy. I think these pics better show how large this cage really is.
The stain used below is Golden Oak.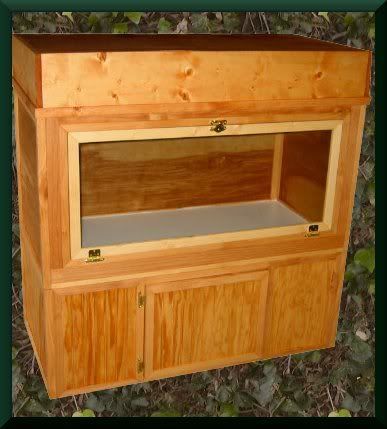 The below photos were sent to me by a customer after she set up her enclosure for her Bearded Dragon. Again, only the cage itself is included in this Buy-It-Now sale. These pics are for examples only.She chose Golden Pecan for her stain.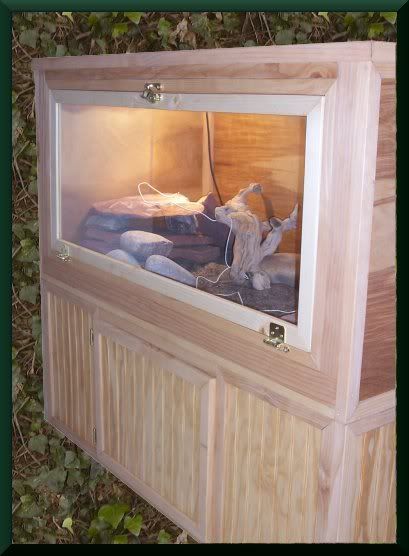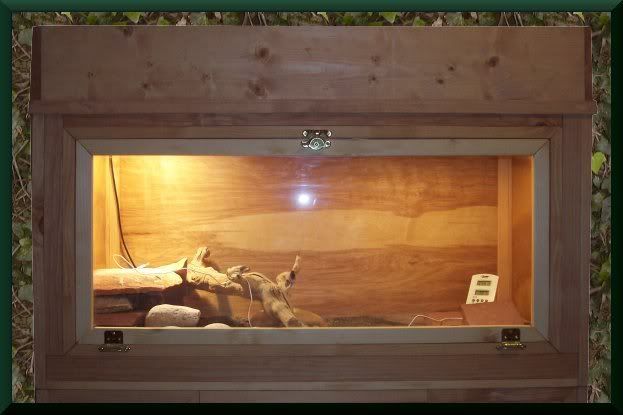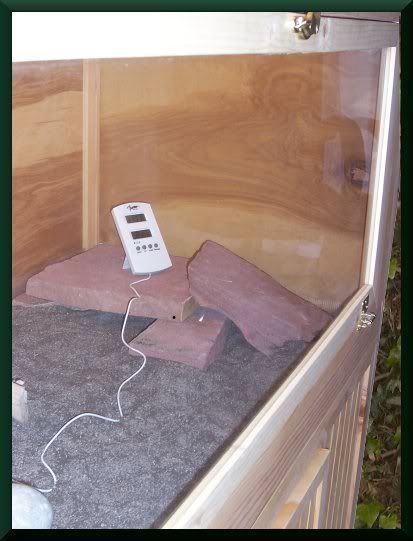 Your reptile is completely safe in our cages from outside 'admirers'.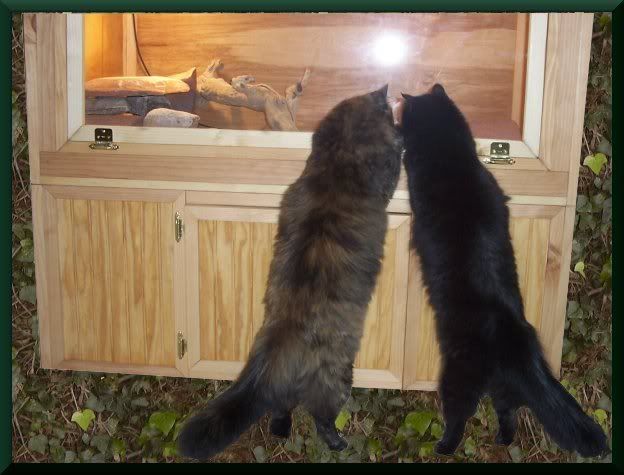 The following pics show a stand, the stand is NOT included. Also shown are the optional side viewing windows, this also is NOT part of the auction.
This is what the screened top of the cage looks like.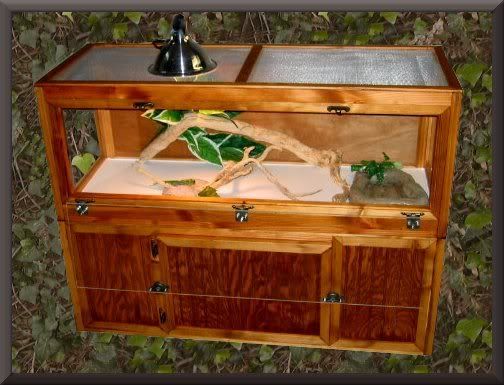 Here is a close up of the window lip and groove, so that your animal is not pinched or able to reach through. The lip is high enough so that your substrate does not fall out when opening your cage door.
This cage is actually a 48x18x18 but the principles are all the same.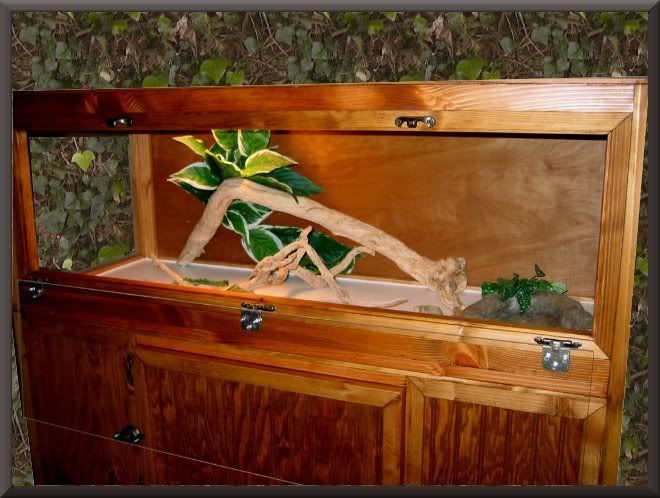 These pics also have the optional side viewing windows, which is not included in the sale.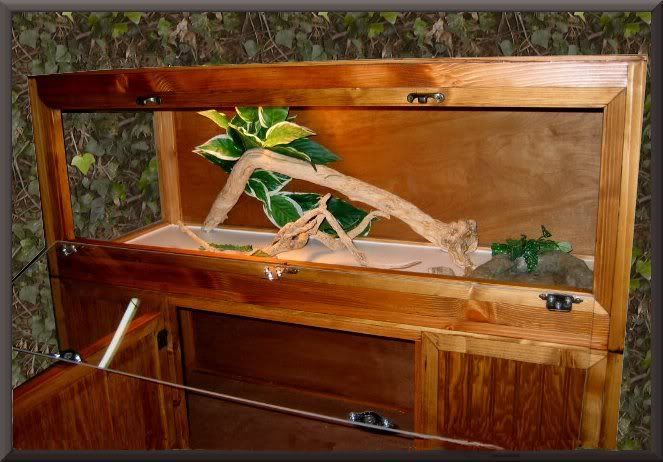 Here you can see that the cage is very easily accesible from the outside by the large opening, making daily care and handling so much more easier.
Have no fear of your reptile escaping....our cages are ESCAPE-PROOF!
We build custom cages around your animal! If you need different dimensions or would like to customize your cage further than what you see...Please do not hesitate to email me. I will send you a Quote ASAP. We sell cages, stands, and canopies!!!
If you would like additional information on this auction or anything else please email me and I will get back to you ASAP!
customwoodreptilecages@yahoo.com
THANK YOU KINDLY...
Your shipment will be packaged extremely well to get to you safely. We will use UPS or DHL for shipping and will be Insured.
With this Sale...you have 2 options for shipping due to the large dimensions of this enclosure.
UN-ASSEMBLED or ASSEMBLED
If you choose unassembled, it is very easily put together and nearly half the price of shipping. It will come in 6 pieces with instructions.
PLEASE SEND ME YOUR ZIP CODE SO THAT I CAN LOOK UP THE SHIPPING FOR YOU.
PLEASE BE ASSURED THAT YOU ARE BUYING IN CONFIDENCE, Over 400 REFERENCES and counting I am Very Proud to say
We stand 100% behind our quality cages and stands.
*The cages shown are for example only. Your stain may differ according to your purchase.
This sale is for the cage only, not the stand, canopy, side viewing options, reptile or decorations inside of the cages.
This sale does not include the side viewing windows, canopy or stand but they are available from our Store if you would like to add that on.